Curly Sue and Carrot Top had two male and one female on January 1,2017. She started out the year right. I always knew she was special. This is Star Buck. He is 6 weeks and weighs 1 1/2 lb. In these pictures. As always, he has had his tail docked and dew claws removed. He is current with shots and wormings. He is registered with APRI and has full breeding rights. His mom is light apricot and 7 1/2 lb. and his dad is red and 3 1/2 lb. will be ready for his new home on Feb.26th. st. His price is $1000.00. SOLD

s Toby,Curly Sue's other boy. He will be a large toy or small miniature poodle. He is 3 lbs at 6 weeks. He will make a wonderful play mate for a child. Also a larger breeder. I just love to bury my face in his soft hair and cuddly body. He is $1000.00
Meet Penny, Curly Sue's only little girl. She is adorable. She weighs 2 1/4 lb at 6 weeks. It is fun to watch all of them playing. My retired moms love them as well. Cute to see them all piled on top of each other sleeping. She will be ready for her new home after Feb. 26. Her price is $1200.00.

Penny is SOLD

SOLD Lucinda and Carrot Top had two little girls. on January 5,2017. Taffeta has real shiny black curls. She is a real sweet baby. She likes to sleep on top of my feet. Her mom is black and 7 1/2 lb. Her dad is red and 3 1/2lb . She will be ready for her new home on March 2 nd. She is $1200.00

SOLD Meet Tiffany, she is the other precious girl of Lucinda and Carrot Top. Don't you love tho's beautiful eyes. She gets them from her mom. She is $1200.00

SOLD, a fun puppy. Taylor was born June 18,2016. He is APRI registered. He has had his puppy shots. He will be apricot in color. He is going to be a large toy or a small miniature. He loves to play and get along with all ages of dogs and puppies. I pick him up and he melts in my arms..

SOLD This is Sweet Pea Isn't she adorable. She is $1200.00.

Sweet Pea at 8 weeks. She is 3 lbs. Sooo Sweet.

Flash is sold.

Flash is the only one of Curly Sue's babies left. He is the smallest at 2 1/2 lbs at 11 weeks. He is so sweet and cuddly. They are all so easy to spoil. He is $1000.00 Just reduced him to $890.00
SOLD
Just reduced him to $800.00 Dazzle is Bella and Carrot Top boy. He will make a beautiful pet or breeder. I love his big dark eyes and nose. Each one is special in their own way. He weighs 3 lb. 12 ounces at 15 weeks.

Jasper is SOLD

He is Curly Sue and Carrot Top's baby. Meet Jasper. He is so sweet. They are really getting cute. Trying to bark and growl. He is $1000.00.

Meet Bailey, He has the sweetest personality. He is $1000.00

Below are 4 males from Bella dark apricot, 7 to 7 1/2 lb. and Carrot Top red and 3 1/2 lb. . She has one red, two phantom, one light apricot. They will be ready for their new home on July 27th.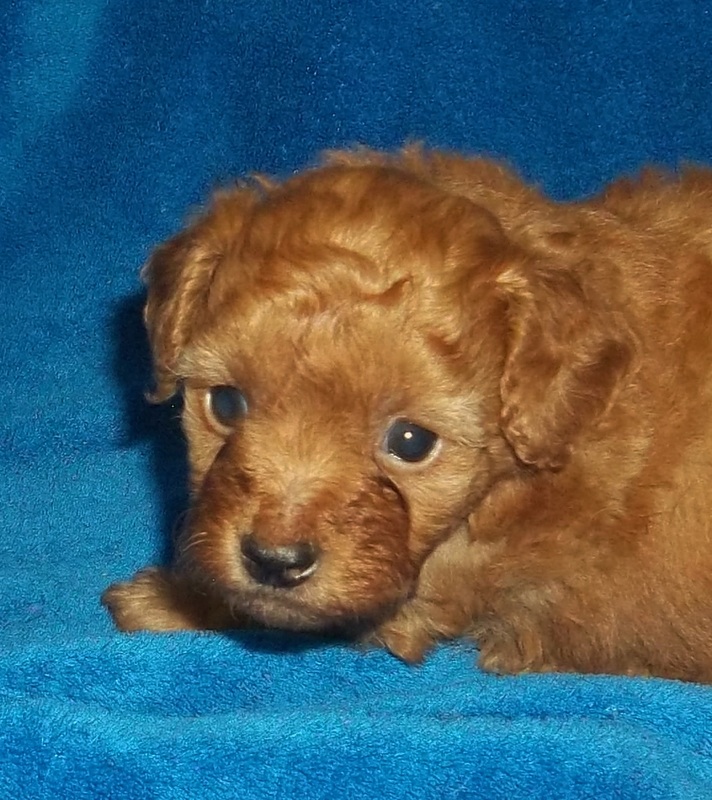 ---
He is full APRI registered with a three generation pedigree. Hunter at 10 weeks. Isn't he pretty. He has always melted into my hands as soon as I pick him up. He will be 7 or 8 lbs. It is always a guess. He would love to have kids to play with. He loves to play. His current pict. are near the top of the page.

SOLD

Sold

Sold

Cappuccino was born January 12,2016. He is black but has red and apricot shaded. Extra thick curly hair. He is always ready to be picked up and cuddled. His price is $1000.00. He will be ready to go to his new home around March 18.

SOLD Carrot Top was born November 17,2015. He is 7 weeks in these pictures. He weighs 3 lbs. He is the largest of the five babies. He is also the darkest red. He will probably be 7 or 8 lbs grown. It is kind of like guessing how tall your kids are going to be. He is APRI reg. with full breeding rights. He is current with his shots and wormings. He is $1000.00.
She is SOLD

Penny was born Nov. 17, 2015. She is a very precious little girl. Her weight is 2 1/4 pounds at 8 weeks. She is current with her shots and wormings. Tail is docked and dew claws removed. She is registered with APRI. She has full breeding rights. There are 5 beautiful babies. The mom is always beside me. She is $1100.00.

Carmella born July 18,2015. SOLD

Modeling is so tiring.

Cody was born May9,2015. SOLD

Carrot Top and Myra had three males and two females on Feb. 11,2015.

All of these are SOLD.

Meet Red Baron. He is 6 weeks in these photo's. He weighs 2 1/2 lbs. They are all so sweet. Thanks

.

Meet Ball of Fire. He is also 2 1/2 lbs at 6 weeks. They all have beautiful thick dark red hair. It is starting to curl.

Cotton Candy is sold to a family in Co. Thanks.

Below, Bella and Cody babies born January 22,2015.

Bella and Cody January 22,2015. She just went to a wonderful family in Kansas.

All of these below have new homes. Thanks so much.

Curly Sue All of these are sold. Thanks to all who have admired my babies.

SOLD

HO HO SOLD